The Ecommerce Survey is now
Magento extends its lead in this edition of the eCommerce survey. 4,074 of the busiest million sites were running Magento, this figure up 19% since November last year. 208 of these were built on the premium version of the Magento platform, Magento Enterprise.
osCommerce is, again, the 2nd most used eCommerce software but slipped 3% to 3,033 sites. New to this edition, Virtuemart is found to be the 3rd most prevalent with 2,683 stores. The top 3 account for over 50% of stores in the survey.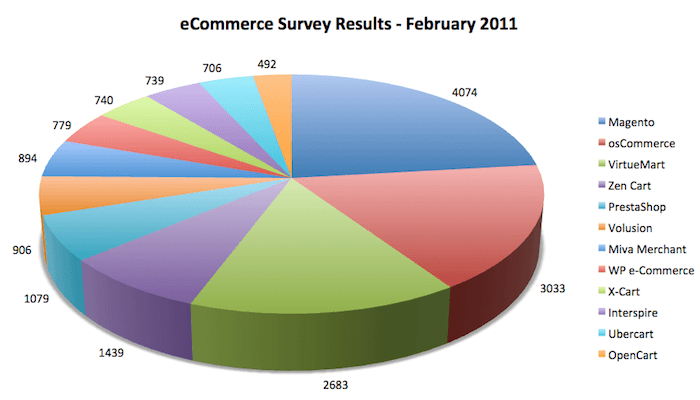 The eCommerce survey takes the top 1 million sites provided by Alexa, the web information company. It analyses the home page of each site by matching against signatures for various eCommerce packages to determine if any are being used. This month, 19,000 eCommerce stores were found.
Additions to the survey are VirtueMart, IBM WebSphere Commerce, WP e-Commerce, Ubercart, Demandware and Foxy Cart. VirtueMart is considered the best eCommerce solution for Joomla!, while UberCart is regarded as the most popular choice for stores built on Drupal. WP e-Commerce is an eCommerce plugin for WordPress with over 850,000 downloads.
Here are the results in full.
| eCommerce Software | Nov 2010 | Feb 2011 |
| --- | --- | --- |
| Magento | 3414 | 4074 |
| osCommerce | 3123 | 3033 |
| VirtueMart | | 2683 |
| Zen Cart | 1556 | 1533 |
| PrestaShop | 852 | 1079 |
| Volusion | 889 | 906 |
| Miva Merchant | 710 | 894 |
| WP e-Commerce | | 779 |
| X-Cart | 733 | 740 |
| Interspire | 605 | 739 |
| Ubercart | | 706 |
| OpenCart | 335 | 492 |
| OXID eSales | 310 | 314 |
| Actinic | 290 | 229 |
| IBM WebSphere Commerce | | 223 |
| Mercent | 102 | 144 |
| Shopify | 122 | 143 |
| Demandware | | 118 |
| nopCommerce | 52 | 64 |
| GSI Commerce | 48 | 59 |
| ekmPowershop | 71 | 58 |
| Big Cartel | 28 | 41 |
| FoxyCart | | 27 |
| TomatoCart | 11 | 16 |